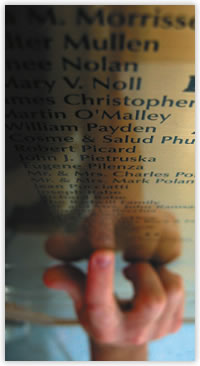 Divine Mercy Mural in Memorial Hall
The Divine Mercy Mural is a wonderful place to honor a loved one, living or deceased, or to proclaim your own devotion to Jesus — the Divine Mercy. Names are engraved on the life-sized mural of the Image of Divine Mercy located in Memorial Hall on the lower level of the National Shrine.

Equipped with a simulcast system connected to the Shrine above, Memorial Hall is used for special events and for the overflow of pilgrims attending our liturgical celebrations.

Spiritual Benefits: You and those you entrust to our prayers will be remembered twice daily at the National Shrine of The Divine Mercy — in the Holy Mass and during the Hour of Great Mercy — including in a Holy Mass on Divine Mercy Sunday.